Frequently Asked Questions
Is vegan makeup really vegan?
When a makeup product is marked as vegan, it means it is free from any animals or its byproducts. However, it doesn't mean it is free from chemicals and is not tested on animals. So, you can't use vegan and cruelty-free terms interchangeably. Our products are vegan and cruelty-free.
What is the healthiest eyeshadow?
The healthiest eyeshadow is comprised without toxic ingredients and packed with essential nutrients. You can trust TERRE DORÉE talc-free Everyday Eyeshadow Palette. It is free from chemicals like parabens, sulfate, etc. Instead of harming your eyelids, they nourish your eyes.
Is eyeliner animal-tested?
Even if many of the eyeliners on the market are cruelty-free, some manufacturers use animal-derived ingredients, including beeswax, carmine, etc. Our eyeliners are vegan and cruelty-free and we do not test our eyeliners on animals.
Which eyeshadow is best for daily use?
Since the use of chemicals every day on your skin can boost aging and lead to wrinkles and fine lines, the best eyeshadow for daily use is the one that is made up of premium-quality ingredients, such as the TERRE DORÉE everyday eyeshadow palette. It's one of the best vegan, cruelty-free eyeshadow palettes beginners can use without pro techniques.
Is liquid eyeliner vegan?
Some eyeliners on the market contain animal-derived ingredients, like stearic acid, beeswax, and carmine, even if they are marked as vegan and cruelty-free. However, TERRE DORÉE's Dual-Ended Liquid Eyeliner is free from animal-derived ingredients.
What does brow pomade do?
Brow pomade is a cream-based formula with concentrated color that is ideal for filling in sparse hairs and defining brows. Our cream-based pomade dries quickly. So, it won't smudge while you wait. You will never have a hard time applying it.
Does brow pomade look natural?
It's easy to achieve a natural-looking brow by applying a brow pomade. Using a vegan and cruelty-free brow pomade is the best way to make your brows look and feel natural and full. We offer brow pomades that naturally coat your eyebrows regardless of their color or length, giving you the most natural look possible.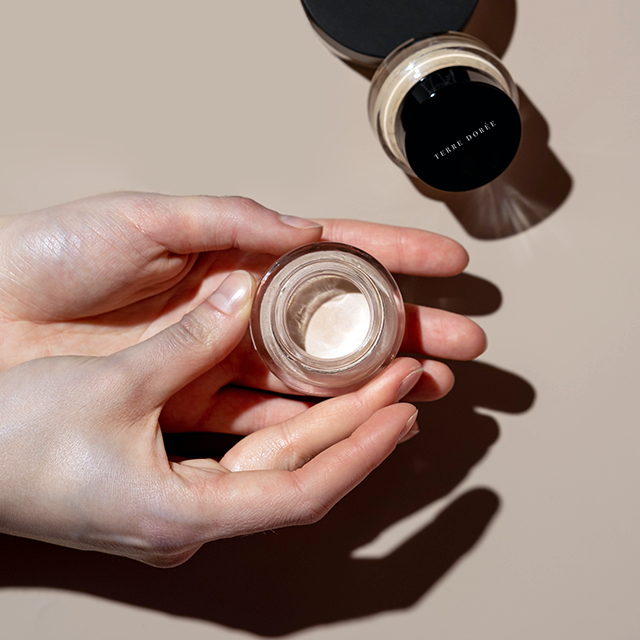 Unleash the Expressive Power of Your Eyes with TERRE DORÉE's Luxurious, Health-Conscious Vegan Eye Makeup Products
Indulge in the Luxurious and Health-Conscious World of Eye Makeup with TERRE DORÉE. Our discerning clients know that eyes are not just for seeing, but for expressing themselves. That's why we are committed to developing a wide range of premium vegan eye makeup products that utilize minerals and plant-based ingredients instead of harmful chemicals like parabens, paraffin, PTFE, and BAK.
Unlike conventional products, our toxic-free makeup is gentle and safe for the delicate skin around your eyes, preventing dryness, wrinkles, premature aging, and other undesirable effects. From Everyday Eyeshadow Palette to gel eyeliner, our range of eye makeup products are perfect for those who demand the best in both quality and ethics. Discover the healthier alternative to traditional eye makeup and let your eyes speak volumes with TERRE DORÉE.
Benefits of Our Eyeliner, Concealer and Other Eye Makeup.
SHOP NOW
A wide range of eye makeup products.

At TERRE DORÉE, we know that everyone's skin is unique and requires personalized care, which is why our collection of eye makeup and skincare products is designed to cater to the needs of every user. Our vegan eye makeup products are formulated with natural ingredients and are gentle on your skin, helping you to accentuate your eyes without causing harm to your skin or the environment. Whether you're getting ready for a special occasion or simply want to enhance your natural beauty, our collection of eye makeup products has everything you need. From eyeliners to eyeshadows, our range of vegan eye makeup products is perfect for any skin type. Trust TERRE DORÉE to provide you with high-quality, ethical products that help you look and feel your best.

Packed with essential nutrients.

Our range of eye shadow, mascara, liquid and gel eyeliner, concealer and brow makeup products are manufactured using only premium-quality ingredients. So, you can rely on TERRE DORÉE for all your eye makeup needs. In our products, we use ingredients like Vitamin E and essential oils that nourish and protect your eyes. So they can help you achieve whatever look you have in mind.

Cruelty-free & Vegan formula.

Our products are vegan and cruelty-free. From talc-free everyday eyeshadow palette to liquid eyeliner, they all are made up of vegan, cruelty-free and gluten-free ingredients. We pride ourselves on manufacturing premium quality products for our conscious customers, just like you.

Sulfate-free & Gluten-free.

You can say goodbye to questionable eye makeup, as our beauty products are free from sulfates and gluten. Whether you prefer smokey eyes or a natural makeup look, our products can help you achieve the look and ensure you look stunning from day to night.

The Extended Lifespan of Everyday Eyeshadow Palettes

Eyeshadow palettes can last anywhere from 6 months to 2 years, depending on the quality and usage. High-end palettes tend to have better staying power, whereas drugstore brands may expire sooner. Factors such as exposure to air, moisture, and heat can also affect their lifespan. It's important to keep them stored in a cool, dry place and to regularly clean your brushes to prevent bacteria buildup. If you notice any changes in texture, smell, or color, it's best to dispose of the palette and replace it with a new one.

Recyclable packaging.

Our eco-friendly approach doesn't stop with the formulation of our products - we've also taken great care to ensure that our eyeshadow palette packaging is as sustainable as possible. In keeping with our commitment to reducing waste and minimizing our impact on the environment, we've opted for packaging that is either reusable, recyclable, or compostable. Additionally, we've reduced the volume of our packages to further minimize our carbon footprint. By choosing our eyeshadow palettes, you can enjoy high-performance makeup while feeling good about making an environmentally responsible choice. Shop our collection today and experience the perfect blend of luxury and sustainability.