Cinnamon Plumping Lip Scrub with Organic Coconut Oil
Regular price

$29.99 USD

Sale price

$24.99 USD

Unit price

per
A soft plumping lip scrub that exfoliates and conditions your lips while gently buffing away dry flakes and keeps your lips moisturized, soft and smooth. Additionally, it stimulates blood circulation, making the lips appear larger and fuller. 

Made with o

rganic, unrefined, cold-pressed virgin coconut oil

.
Infused with 100% pure cinnamon oil and pure peppermint oil.
Made with ground cinnamon and contain particles.
Store in refrigerator for extra cooling benefits.
✔ Natural formula
✔ Vegan formula
✔ Gluten-free
✔ Cruelty-free
✔ Made in Canada
Ingredients

Organic, unrefined, cold-pressed virgin coconut oil, Cinnamon, Cinnamomum zeylanicum (pure cinnamon oil), Mentha Piperita (pure peppermint oil), Hydrogenated Cottonseed, Soy Oil.
How to Use

Apply the lip Scrub to the lips and gently massage away dull skin. Rinse with a damp wash cloth. Use two to three times a week for irresistibly kissable lips.

As it is made from organic coconut oil, its substance has a low melting point, so it can easily liquefy. Keep in a fridge before using. Sediment is natural and not harmful.
Share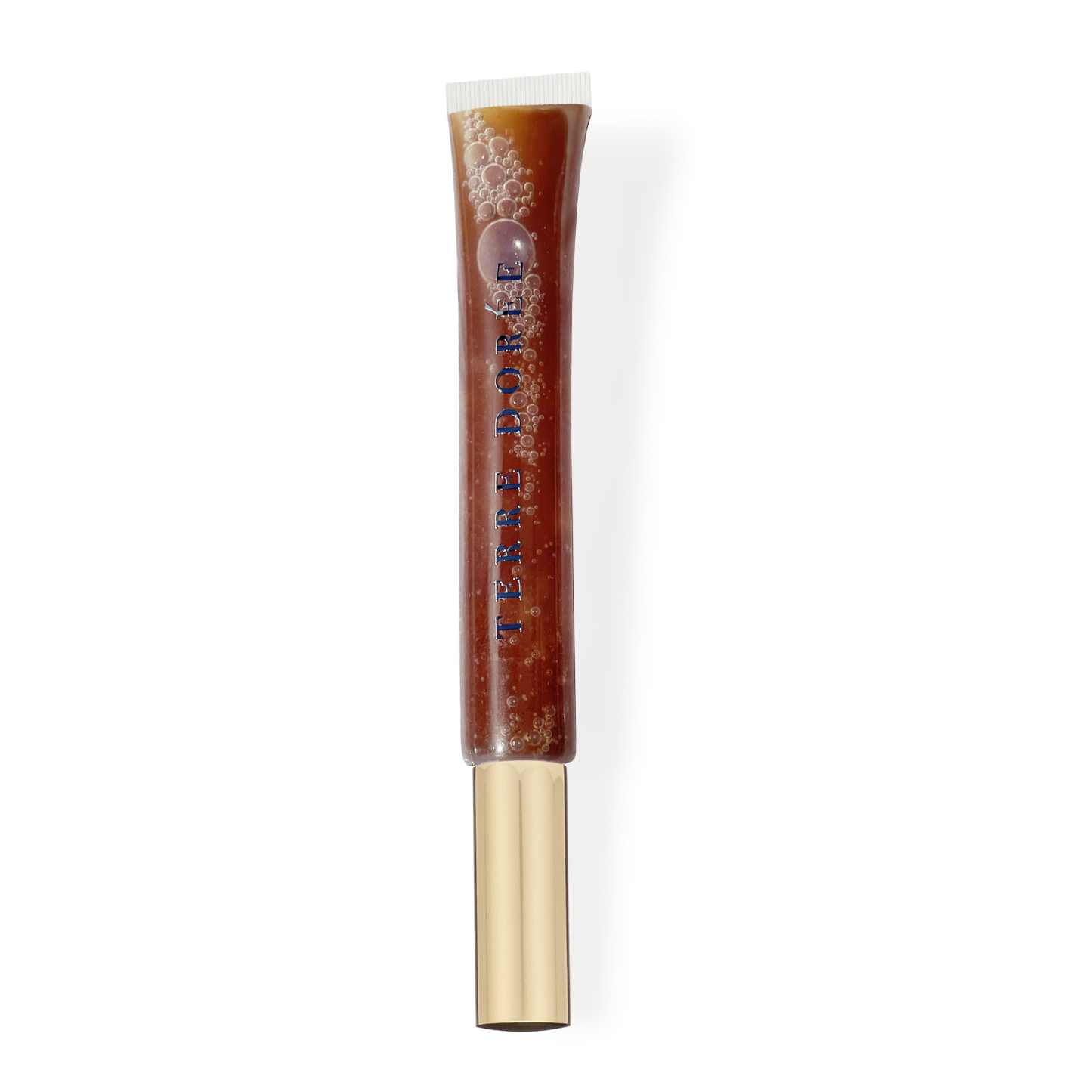 A promising option for those looking to pamper and care for their lips.
This lip scrub is a high-quality product that could benefit those looking to achieve smooth and plump lips. The blend of natural ingredients, including cinnamon and organic coconut oil, could provide exfoliation and hydration to the lips, while also promoting circulation for a plumper appearance. Love it!
My Favorite Lip Scrub with Gentle Cinnamon Particles and Organic Coconut Oil
This lip scrub is my absolute favorite. The cinnamon particles are very fine and gentle on my lips. Plus, it's made with food-grade ingredients, so I feel safe using it during pregnancy. I like to keep it in the fridge because the organic coconut oil tends to melt easily. When it's cold, it gives a better lip plumping effect.
A yummy organic lip scrub!
The lip scrub tastes great and it's organic and all-natural! It leaves my lips feeling incredibly soft and smooth, and the delicious scent is an added bonus. I love that it's all-natural and gentle on my skin.
Get Fuller, Softer Lips with the Cinnamon Plumping Lip Scrub!
If you're looking for a lip scrub that'll leave your lips feeling amazing, you gotta try the Cinnamon Plumping one. It exfoliates and moisturizes your lips, and the cinnamon gives them a little plumpness too. It's totally worth it!
I am absolutely in love with this lip scrubs!
As someone who has tried many lip scrubs before, I can confidently say that the cinnamon plumping lip scrub is truly one-of-a-kind. The perfect blend of grounded cinnamon and organic coconut oil creates a gentle exfoliation experience that leaves my lips feeling smoother and plumper than ever before, while the nourishing oils ensure they stay hydrated and healthy. I am absolutely in love with this product!
Cruelty-Free

We maintain a commitment to ethical and responsible practices, providing beauty products that are cruelty-free and never tested on animals.

Vegan Formula

You can feel confident using our products, knowing that they're made with natural oils, artificial beeswax, and other raw materials that don't harm animals.

Gluten-Free

Our gluten-free products eliminate concerns of allergies or skin irritations.

Made in Canada

We manufacture our makeup & skincare in North-American, supporting local economies, and minimizing our carbon footprint.

Natural Ingredients

Experience natural and high-end ingredients, like Vitamin E and jojoba oil, in our carefully formulated beauty products that nourish and hydrate your skin, leaving a radiant, healthy glow.

FDA's Standards

Trust the safety and effectiveness of our beauty products, which meet the labeling standards requirements set by the FDA.

Eco-Friendly Packaging

We designed our packaging to be either reusable, recyclable or compostable. To cut down on waste and minimize our carbon footprint, we also reduced our package volume.

Inclusive Skin Products

Our makeup is expertly crafted to enhance all skin tones, complementing and enhancing your unique features for a flawless, natural look that celebrates your individuality.